File Cloud - HIPPA Compliant File Sharing
A secure HIPAA & SAS70 compliant file transfer and management application from Brave River Solutions.
File Cloud is Brave River's premiere file portal – a secure, HIPAA & SAS70 compliant file transfer, exchange, and management application. Our customizable file transfer platform allows for comprehensive file and folder management, streamlining communication and information sharing between external and internal parties. If you need to securely share and send large files, the File Cloud is the perfect solution.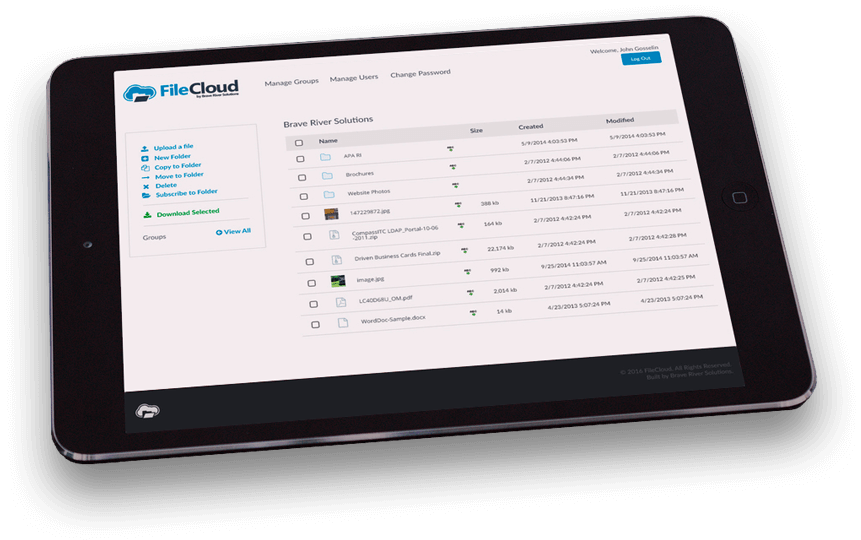 Since it's web-based, the File Cloud lets you access your files at any time, from anywhere. Plus, with HIPAA-compliance and a super user-friendly interface, this file transfer makes it easy to exchange information securely.
With File Cloud, you'll get:
Instant access to critical information. All you need is a web-browser.
The ability to send large files. Share files of any size or type without facing the restrictions of email box limits.
Web-based file sharing that's more secure than an FTP site.
HIPAA-compliant file sharing & storage. File Cloud also meets SAS70 compliance regulations.
A user-friendly file transfer application. Select one or more files from your computer or network, and upload them to the File Cloud with one click.
Multiple permission levels. Easily assign role-based permissions to employees and clients, setting appropriate access levels for a variety of workspaces, actions, and file classifications.
Secure, 256-bit encryption on all files.
Text and/or email alerts for time-sensitive uploads. You can choose to automatically send out alerts to users' emails or cell phones when you upload an urgent file.
Phone/email support. Although File Cloud is so simple that you probably won't need any help, we're here if you do.
Simple, tiered-style organization of folders and files.
The option to brand your File Cloud with your own logo. Clients will know they're in the right place when they see your company's name and logo.
To learn more about File Cloud, please visit the website and watch the demo.
We have a passion for productivity & efficiency.
Let us show you how we can help with your next project.